UPDATES

Podcast recording now available!:

Listen to the wide-ranging conversation with:

•Andy Raskin, author, The Ramen King and I


•George Solt, assistant professor of history, New York University


•Thy Tran (moderator), director, Asian Culinary Forum


ACF - For the Love of Ramen - Panel Discussion.mp3
(1hr 25mins, 16MB)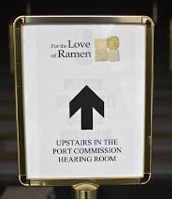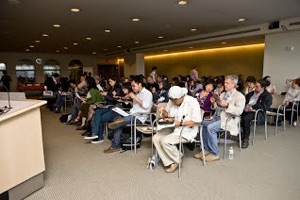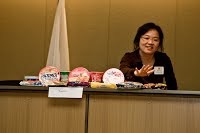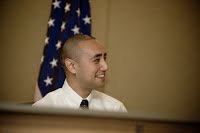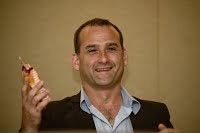 PANEL DISCUSSION

FOR THE LOVE OF RAMEN

Wednesday, June 24, 2009

6:30 - 8:30 pm

San Francisco Ferry Building

$20 General Admission

$15 Full-time Students with ID

*** SOLD OUT! ***

Thank you so much for your interest in this event. We're in the process of trying to add more spaces. Please register your name onto the waitlist (accessed through the "register online" link above) to be eligible for one of those extra seats.

Momofuku Ando, the inventor of instant ramen, insisted that: "Peace will come to the world when people have enough to eat."


Campers, students, busy families, and well-dressed salary workers have all benefitted from the easy goodness of ramen. Its countless incarnations—mild, sour, spicy, covered in broth or swirled in curry—have traveled around the world.
The Asian Culinary Forum is pleased to present a panel of noodle experts who will explore how a dish born of extreme need after World War II was transformed into a meal of luxury, endless regional specialties, and then, finally, an iconic convenience food that so many of us crave.

Come join the conversation with:

     Andy Raskin, author, The Ramen King and I

     George Solt, assistant professor of history, New York University

     Eric Nakamura, publisher and co-editor, Giant Robot magazine

     Thy Tran (moderator), director, Asian Culinary Forum

Japanese nibbles and drinks will be provided, and Book Passage will sell copies of The Ramen King and I.


Many thanks to our event partners for their generosity and support: Nichi Bei Times, San Francisco Ferry Building; Culinary Historians of Northern California; and Asia Society Northern California and their sponsor, Southwest Airlines.

TRANSPORTATION & PARKING

We highly encourage attendees to use public transport to arrive at our events. If you are driving to the Ferry Building, please review parking options before beginning your trip into the city's downtown area.

FERRY BUILDING

One Ferry Building

2nd Floor (entrance at main stairs under clock tower)

San Francisco, CA 94111

(415) 693-0996

Public transport

Embarcadero Station from BART and all Muni Trains.

Muni Buses F, 1, 2, 7, 9, 14, 21, 31, 38.

SPEAKER BIOS


ANDY RASKIN

Author, The Ramen King and I

Andy's essays and personal nonfiction narratives have been broadcast on public radio's All Things Considered and This American Life, and published in The New York Times, Gourmet, Wired, Women's Health, CNN/Money and Playboy (the Japanese edition). Prior to becoming a writer, Andy was a computer programmer, a management consultant, a Japanese TV show producer, a translator, and the CEO of a venture-backed Internet startup. He holds an MBA from the Wharton School, an MA in International Studies from the Lauder Institute, and a bachelor's degree in computer science from Yale. A judge for the 2009 James Beard Foundation Journalism Awards, Andy resides in San Francisco, where he is a member of the San Francisco Writers' Grotto.


GEORGE SOLT
Assistant Professor, New York University

George conducts his research and teaches in the Department of History and the Department of East Asian Studies at New York University. He completed his doctorate in the history of modern Japan at the University of California, San Diego. His dissertation, Taking Ramen Seriously: Food, Labor, and Everyday Life in Modern Japan, analyzes changes in diet, work and other realms of daily practice in relation to larger shifts in the political economy of Japan. George has presented lectures on his dissertation research at various conferences, including the American Historical Association's Annual Meeting and The Asian Studies Conference Japan.  


ERIC NAKAMURA was unable to attend
Publisher and Co-Editor, G
iant Robot
magazine

From movie stars, musicians, and skate-boarders to toys, technology, and history, Giant Robot magazine covers cool aspects of Asian and Asian-American pop culture. Paving the way for less knowledgeable media outlets, Eric put the spotlight on Chow Yun Fat, Jackie Chan, and Jet Li years before they were in mainstream America's vocabulary. Although
Giant Robot
has an Asian pop culture focus, it has earned a loyal readership of all colors and ages. Eric graduated from UCLA with a degree in East Asian Studies. He got his start in magazine making through a stint at the Palisadian Post newspaper and Larry Flynt Publications, but worked on numerous punk rock zines in the early 90s.
Giant Robot
continues to be a leading source of Asian popular culture and is often considered a lifestyle magazine and store for the fans of animation, art, and design.
THY TRAN

Director, Asian Culinary Forum

Thy oversees programming, development, and operations at ACF. She also writes literary nonfiction about food, the rituals of the kitchen, and the many ways eating and cooking both connect and separate communities around the world. Trained professionally as a chef, she has co-authored numerous books, most recently The Essentials of Asian Cooking and Taste of the World. Her features have appeared in publications such as The Washington Post, Los Angeles Times, San Francisco Chronicle, Fine Cooking, and Saveur magazine.